It's been a bit since I've posted. I'm in Koh Phi Phi and am absolutely loving it. I've been diving every day since I got here. The water is amazing and I've gotten to see so much. I've not only begun to really love diving, but have gotten much better. It's amazing to see the difference this year after just 15 dives. Relaxing and finding your grace under water is key to maximizing your air supply. In the beginning I was always the first one to surface after running out of air in 30 minutes or so. These days, I usually stay under water for an hour each time and always have fun.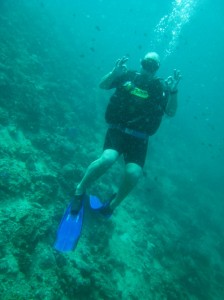 I lucked out with the dive shop that I chose when I arrived. Moskito Diving has been absolutely wonderful.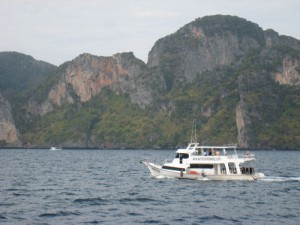 Very knowledgeable divers, great boats and equipment and they are a ton of fun. They are a great part of the reason that I've stuck around so long.
I finished my Advanced Open Water course straight away and have been fun diving the rest of the time. The dive masters here really know the good spots and where to go to see lots of aquatic life. We have seen:
Lionfish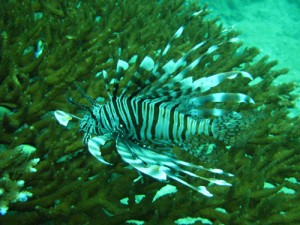 Nudibranches
Turtles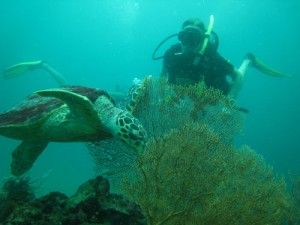 and have even had a few encounters with Leopard Sharks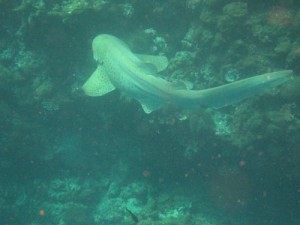 We went out searching for whale sharks today, because we heard last night there was a sighting, but unfortunately, we didn't get to see any. I've really enjoyed taking pictures while diving, but it's difficult as sometimes the light or the visibility aren't good and none of the matters if you can't keep still. It's been a real challenge, but lots of fun to try and master.
The diving has been really relaxing and has been a great way to meet people. There has been a pretty solid crew for the last few days. A German woman, a French woman, a Brazilian couple, a Polish guy, and a few people from Holland. Add together the dive staff from Japan, Holland, England, Sweden and Norway and I've met a ton of people from all around the world.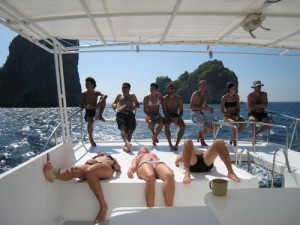 After diving each day, we head back to the shop to fill out log books before heading back to the hotel to take a nap. Every day there is a videographer who dives with us to shoot us diving as well as the sea life we encounter. So, every night, we meet back up to watch the days footage and laugh as we all tend to ham it up for the camera under water.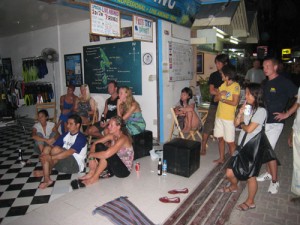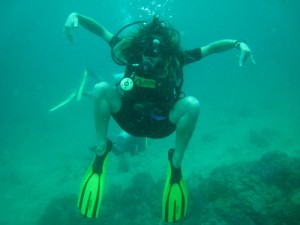 It's a great way to cap off the day. Afterwards we head out to eat dinner and hit the bars. We usually end up on the beach and chat and watch the fire shows.
So, I was supposed to leave a few days ago and head to Koh Lanta for Christmas, but I've been enjoying it here so much that I decided to stay a few extra days and spend Christmas with my new friends. Spent Christmas day diving and looking for Whale Sharks. What a great way to spend Christmas! I'd recommend it to anyone.
I've also made a change to the rest of my itinerary. Since arriving, I've been hearing lots of reports that Koh Tao isn't very good right now for diving. I was supposed to spend a week diving there, but after hearing that the visibility sucks and there are a ton of people at the dive sites. I've decided to come back here after Koh Samui and spend the last week I'm in Thailand here and celebrate New Years with Moskito. Alright, off to have some Christmas curry. I hope everyone has a Merry Christmas today!