The past week I've spent much of my time sitting on the beach, reading or napping.  I've heard a few grumbles about the weather since it's been overcast and a bit rainy, but it suits me perfectly as I spend the morning relaxing on the beach, the afternoons enjoying rainy naps, and the evenings are cool and perfect for eating outside enjoying the company of other travelers.
My first impressions of Ao Nang are that it seems to be the classic Thai beach town complete with tourist shops and constant calls from touts to ride in their tuk-tuks, buy a custom suit, or eat at their restaurants. While certainly worse in places like Phuket, it can be a chore at times to walk down the street with everyone constantly hawking their wares.
What's also readily apparent is the prices are much higher than in Bangkok. After seeing the restaurants cost 5-7 times more, I set out to find the street carts that are usually plentiful in any Thai town. Much to my dismay, it's proven difficult to eat street food as I've only found two very small areas for food carts, both of which are out of the way and don't seem to operate daily. The other note about the local food I've had so far is that most of the cooks are Muslim instead of Thai since half the population in the area is Muslim. I've found the food to be a little less rich and more spicy, but no less tasty.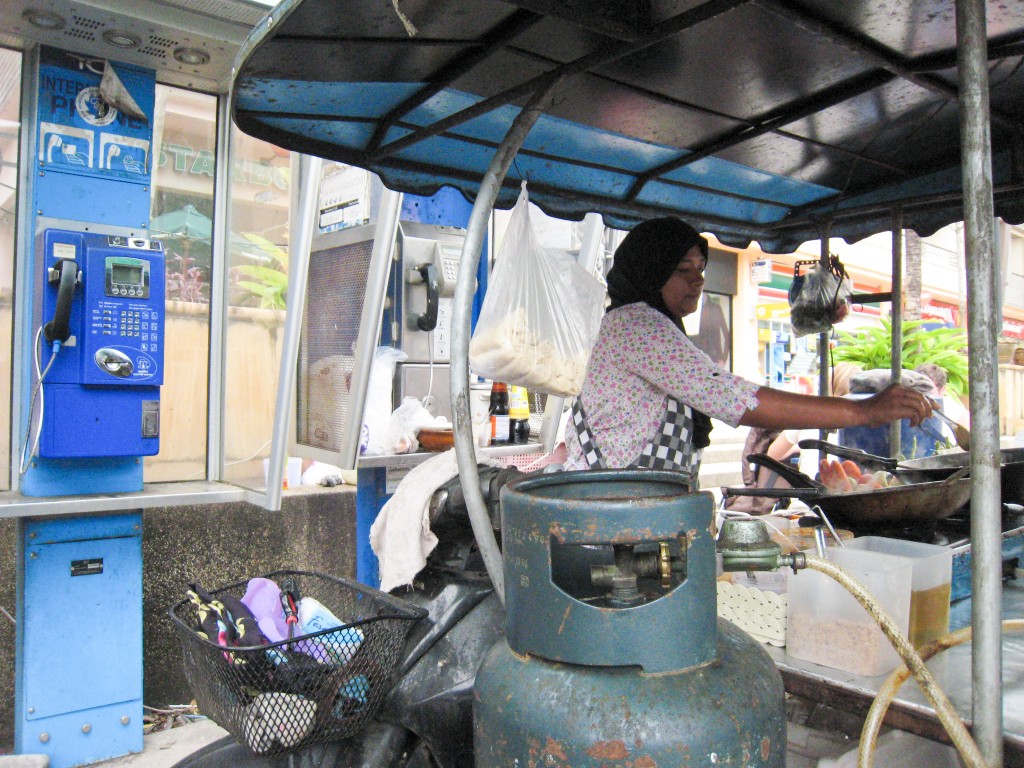 Many of the visitors seem to be from Western Europe and are content to head to the package resorts in the area. Finding cheaper accommodations was a bit challenging, but after a bit of searching I was able to find a nice comfortable bungalow for 500 baht per night. While in Krabi the other day, I noticed there were many more budget options, including a hip new hostel charging 150 baht a night and while tempting, the extra money has been worth it as I've just wanted to walk to the beach every morning.
Ao Nang is framed by limestone cliffs and ringed with beaches. There are many beaches in the area, but there are really only three beaches within walking distance of Ao Nang proper; Ao Nang, Nopparat Thara, and Phai Phlong. Phai Phlong is my favorite since it was the least crowded, as it's separated by a short, but steep hike up the "monkey trail."
I didn't see any monkeys along the trail, and more importantly, I also didn't see many people on the beach: maybe only a half dozen all day. Phai Phlong is also interesting because it's a national park as well as a private resort requiring a check-in at a guard shack at the bottom of the hike. Thinking the guard would turn me away I nervously approached, but he simply asked me to sign a ledger and pointed me towards the beach.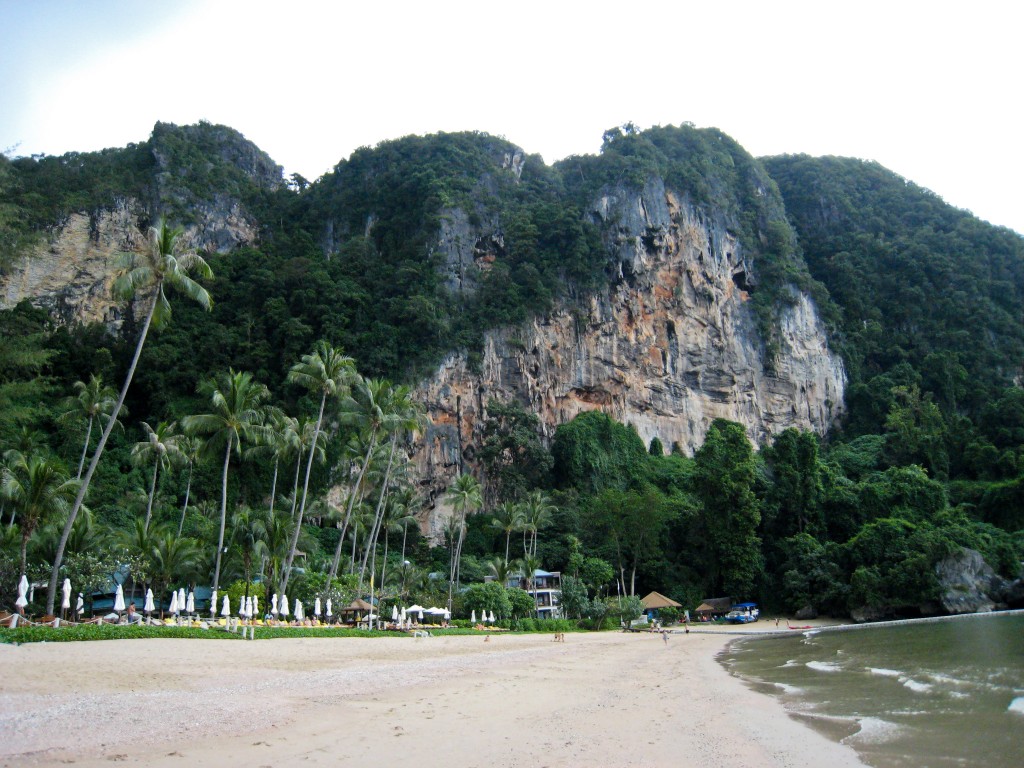 I sat for hours on the beach reading and taking in the views. The limestone cliffs and islands surrounding the beach are simply stunning and I often found myself just staring at the diversity of textures and colors of the cliffs. I've heard a few complaints about the beaches in Ao Nang being shell beaches, and tomorrow maybe I'll hop a long-tail boat over to Railay beach, but today I'm happy where I am.